Our Services
Quality is at the centre of our services
MANUFACTURING & ASSEMBLY PLANTS
AFTER SALES SUPPORT SERVICES
As a manufacturer and supply of Power Generators , we provide our customers with outstanding products and after sales services to match. Your service spectrum is tailored to your service strategy and the market situation. Some services are standard, are expected by our customers, and are considered "must-have" services. These include:
Maintenance and inspection
Repair
Spare Parts Supply
Update and Upgrade Services
Customer Support
The potential for after sales service goes far beyond this list. Services are an important differentiating feature of our core business and help create a significant importance for our company.
INSTALLATION & COMMISSIONING
SERVICES
OUR OFFER:
VISA ENERGY technical teams has a combined 325 years in the diesel generator industry. We have a network of service team and dealers to service and install your diesel generator anywhere, anytime. We can service your diesel generator through our network and by internet communication. We support our diesel generator anywhere it is located in the world.
OUR VALUE
The confidence to be attended by the original manufacturer
Quick answer in the solution of problems to including an inventory of original spares
Advises to prevent operational problems and maintain those equipments in good conditions and include a written test report of the current state of the set
Repairs and maintenance, carried out by specialized personnel
Priority attention in the case of an emergency
Advises on disposal and good management of dangerous residues such as oils, fuel and filters in accordance with environmental norms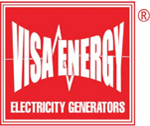 Visa Energy - Diesel Generators | Gas Generators | Marine Generators
Visa Energy GB Ltd strives to undertake our business fairly with honesty and transparency. This must be reflected in every aspect of our business affairs.
Get A Quote