Our standard specification includes Cummins heat exchanger cooled marine engines. We can also offer Cummins keel / hull cooling or radiator cooled engines as an option – please ask for a quotation. We include Mecc Alte 'marine rated' generators, Newage Stamford (now Cummins Generator Technologies) generators are offered as an option.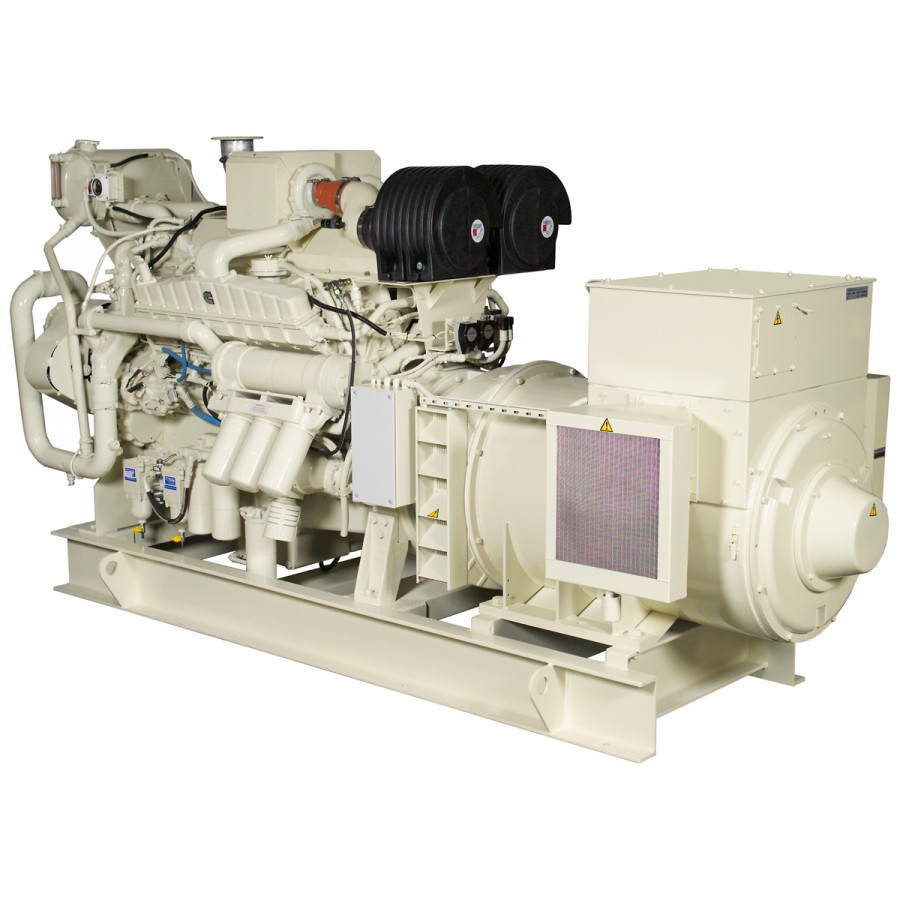 Specifications
| kVA Rating 3 Phase @ 0.8 PF 50 Hz – 1,500 rpm | kVA Rating 3 Phase @ 0.8 PF 60 Hz – 1,800 rpm | Generating Set Model | Detail Data |
| --- | --- | --- | --- |
| 85 | 101 | 6BT5.9D1M | |
| 102 | 129 | 6BT5.9D2M | |
| 140 | 160 | 6CT8.3DM | |
| 185 | 225 | 6CTA8.3DM | |
| 135 | 157 | QSB7DM | |
| 186 | 208 | QSB7DM | |
| 240 | 288 | QSM11DM | |
| 308 | 370 | QSM11DM | |
| 420 | 494 | KTA19D1M | |
| 480 | 563 | KTA19D1M | |
| 508 | 675 | QSK19DM | |
| 870 | 960 | KTA38D1M | |
| 1000 | 1130 | KTA38D1M | |
Included in the Generating Set Price
Fully classifiable specification suitable for survey including, duplex change over fuel filters and flexible fuel connections for inlet and return, fire retardant and 'type' approved. Double skinned (sheathed) fuel injector pipes must be added for B and C series. For unmanned applications and additional accessories refer to list below. Except for B and C series, engines are IMO emission compliant. The "Standard Specification" of the generating set is listed below. Alternators are selected to give marine ratings for class 'F' temperature rises in marine ambient engine room temperatures of 45°C. Frame sizes may alter to meet required voltage/frequency.
Visa Energy Marine Generating Sets – Specifications
Marine Generating Set having a continuous rated "Prime" power output, 3 phase, at 0.8PF, with a capability for 10% overload in accordance with ISO standard; designed, built and tested by Beta Marine Limited, each comprising:
Powered by a Cummins Marine specification heat exchanger cooled marine auxiliary diesel engine and rated for continuous operation in accordance with ISO 3046.
Heat exchanger cooling complete with cupro-nickel tube bundle, with fresh and sea water pumps. Water cooled exhaust manifold with dry outlet and exhaust connection/elbow and flanged flexible bellows section.
24 volt electric start system with battery charging alternator and stop solenoid valve. Fully insulated return marine system.
Combined start, alarm and shutdown panel engine mounted and pre-wired to engine components and including:- start/stop keyswitch, oil pressure gauge, coolant temperature gauge, tachometer/hours run meter, shutdown on low lubricating oil pressure, high coolant temperature, and overspeed; indicator lamps for faults and power on, provision for connection of customers remote emergency stop. QSB and above have class type approved modular engine controller rather than individual gauges. In these cases start and stop is by push button.
Speed governor to control engine speed to the requirements of ISO 3046 for diesel generating set.
Cummins standard fuel oil and lubricating oil filters. Duplex change-over fuel filters. Flexible fuel connections.
Lubricating oil cooler and sump drain pump.
Dry type combustion air inlet filter.
Mecc Alte Marine generator, marine rated to ISO standard, ventilated drip proof enclosure with IP 22 protection, single bearing construction on B, C and QSB models, two bearing construction on larger sets. The generator is self regulating and self excited and is complete with terminal box and automatic voltage regulator.
Engine and generator are close coupled together (with flexible coupling on larger sets) and mounted on a welded steel baseplate.
Marine failsafe anti-vibration mountings to isolate the set from the ships seating.
Paint: Cummins white.
Each generating set is "full load" tested in accordance with our quality document QA001. On turbocharged engines load acceptance is limited in accordance with ISO 3046.
Optional Extras and Alternative Equipment
Engine Options
Alternator Options
Generating Set Options
Generating Sets Manufactured to Class, such as
Alternative engine cooling options for keel cooling, or radiator cooling with mounted radiator and engine driven fan, (radiator cooled output is slightly de-rated due to power absorbed by fan). Alternative means of engine starting and a second means of starting where available. Starter batteries. Dry exhaust silencer. Spark arrestor exhaust silencer. Fuel/water separators. Double walled (sheathed) high pressure fuel injection pipes for B and C series (need to be added if class survey is required). Duplex change-over type lube oil filters (required by some class societies for certain applications).
Anti condensation heaters, droop kit, 3 phase sensing, etc.
Two bearing generator with flexible coupling drive (B, C and QSB series). Torsional vibration analysis. Extra alarm switches for UMS operation. Parallel operation. Automatic mains failure equipment. Extended control panels. Mains output panels etc. (When engine controller or genset controller is used individual gauges are not fitted as the controllers monitor the parameters and annunciate them on screen).
Lloyds Register, Det Norske Veritas, Bureau Veritas, American Bureau of Shipping, Germanischer Lloyd (not QSM11), RINA, etc..
All goods are offered and supplied in accordance with our

'General Terms of Tender and Sale'.
Options and Accessories
24 Volt Lead-acid battery (2 blocks) with links and battery cables mounted in tray on base plate. Batteries for export are supplied "dry charged" for filling by customer on site.
Alarm switches to meet UMS, EO, AUT-MS requirements for engine system.
Double skinned (sheathed) fuel injector pipes with collecting manifold and alarm switch, normally now required for all classified sets to meet SOLAS. (Applies to B and C series only).
Duplex change-over lube oil filters (may be required for certain applications).
Anti condensation heater in generator (1 phase AC).
Jacket water heater (1 phase AC).
2 bearing generator with flexible coupling drive (included on QSM11DM and above).
Torsional calculations for submission to class, excluding the fees charged by class which, if applicable, will be passed on at cost.
Second means of start available on 6B, VTA and KTA only. For twin start flywheel housing and hand wound spring inertia starter (6B only). For VTA and KTA see below. For other models a two battery system (SOLAS compliant) can be offered.
Hydraulic start system. Available as an option on most models or as a second means of start on VTA and KTA engines.
Air motor starting (in lieu of standard electric) including, start valve and flexible air inlet hose (approved type). The starter accepts air at 10 Bar maximum. Could be added in addition to electric start on VTA and KTA models.
Parallel operation: Governor programmed to accept speed raise and lower signals plus droop circuit CT in alternator and voltage trimpot supplied loose, without genset controller. Includes electronic governor on B series.
Automatic control panel for remote control either by customers mains failure control or remote volt free contact. Automatic engine controller already included in standard panel.
Automatic control panel with genset controller: for remote control and parallel operation with inputs for speed adjustment and for AC voltage and amps. Sensing for volts and amps via fuses and CT's installed in generator terminal box. Price includes programming, set up and testing. Based on marine approved ComAp InteliGen management system. AC output switching / switchboard not included. Other makes and options can be offered on application.
AC switching and switchboard: Marine switchboard built to customer and classification requirements available against customer's enquiry. Supplied loose for installation and cabling by customer. Class drawing approvals extra 'at cost'.
AC output panels and circuit breakers, not normally supplied on marine sets as these items usually form part of the separate ships switchboard, however we offer:
3 Phase "Over mounting" type panel fitted on generator terminal box and pre-wired to generator terminals with AC ammeter(s), Voltmeter with selector switch, Frequency meter and meter fuses. Not suitable for parallel operation. Not classifiable.
3 phase 4 pole Circuit breaker (MCCB) in enclosure mounted on the set and pre-wired to the generator terminals: up to 100 amps, up to 200 amps, up to 400 amps or up to 800 amps (class type approved).
Exhaust silencers on flanged type – includes joints and mating flanges (but not fixings):
Dry type: 3 inch BSP tails, 4 inch flanged, 5 inch flanged or 6 inch flanged.
Spark arrestor type: 3 inch BSP tails, 4 inch flanged, 6 inch flanged or 8 inch flanged.
Export packing and delivery FOB UK Port.
Class survey fees, for guidance allow 15%, (25% for Lloyds Register). Including necessary approved shafts and class tests with witness tests by classification surveyor. Please ask for a quotation as fees vary due to requirements, class society and rating. Any additional charges for approvals of drawings or calculations by class society will be passed on 'at-cost'.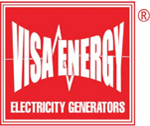 Visa Energy - Diesel Generators | Gas Generators | Marine Generators
Visa Energy GB Ltd strives to undertake our business fairly with honesty and transparency. This must be reflected in every aspect of our business affairs.
Get A Quote